In 2011, Mr. Johnson saw a need for a free library to serve the area so he had The Johnson Family Foundation provide the building, purchased the first 6,000 books and paid for the three employees' salaries who operated the library.
The library was at 968-1 E. Hunt Highway, San Tan Valley, next to the Johnson Utilities Office. The library was open to the pub­lic free of charge Monday through Saturday and grew to over 5,000 library card holders.  The library had 10,000 titles, several DVDs, 10 computer stations and several laptops.  On Wednesdays and Fridays the library held a free arts and crafts class for children of all ages.
When Central Arizona College opened in San Tan Valley, the community was finally being served and so the Johnson Community Library was closed.  The Library thanks the following schools and friends for accepting the donations of books from the Johnson Community Library:
Anthem: 460 books/9 DVDs
AZ Friends:150 DVDs
Circle Cross: 92 books
Combs High: 183 books
Coolidge: 238 books/12 DVDs
Copper Basin: 1400 books/112 DVDs
Eloy Library: 200 books
Florence Library: 311 DVDs
Florence Prison: 8000 books
Head Start: 492 books / 92 DVDs
Heartland: 186 books
Hohokam: 500 books
Magma Ranch: 82 books
Mountain View: 335 books
Mountain Vista: 125 books
​Poston Butte: 166 books/15 DVDs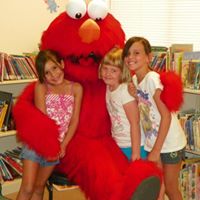 Elmo visited the library!